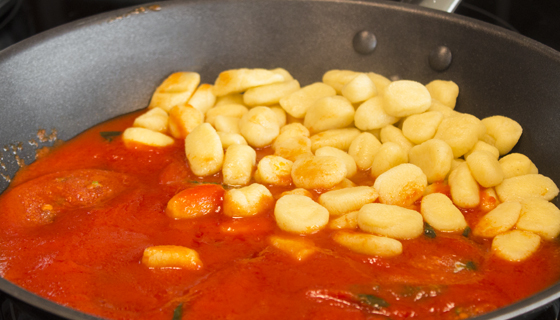 INGREDIENTS
2 Kg potatoes for gnocchi

720 g of flour
380 ml of water
200 g Grana Padano cheese
4 teaspoonfuls of fine salt
4 eggs
Nutmeg
Gnocchi is one of the most loved of all Italian dishes, but these days, owing to the long preparation time, it is more likely to have been bought from a supermarket than to have been made at home.
But now thanks to the LIFE domestic blast chiller you are able to make these little gems, in large quantities, in your own kitchen. The deep freezing function allows you to preserve them for many months, without any loss of quality. When you wish to serve them, simply boil the frozen gnocchi for 3 minutes, and you will have a tasty dish, just like one that has been freshly made!
PREPARATION
Boil the potatoes in their skins for 30 – 40 minutes.
When cooked, drain, peel and mash while still hot.
On your kitchen work top pour the flour into a pile and add the mashed potatoes, eggs, grated cheese, salt and nutmeg.
Carefully mix the ingredients until you have created a soft, compact mixture. If the potatoes contain too much water then add a little more flour, but pay attention not to add too much. It is, of course, preferable to use less water
Roll the mixture into lines of 2-3 cm thickness, cut into gnocchi sized pieces.
Boil them in salted water for a few minutes. When the gnocchi are floating on the top of the water they are ready to be seasoned.
The cooked gnocchi can now be deep frozen in the LIFE domestic blast chiller
Line one or more of the blast chiller racks with baking paper, cover with flour and place the gnocchi on them.
Put the racks into the LIFE blast chiller and start the program DEEP FREEZING>PASTA & RISOTTO>GNOCCHI
Divide the gnocchi into portions and put into freezer bags and store in the freezer
To cook, place the frozen gnocchi into boiling salted water, and in 3 minutes you will have homemade gnocchi ready to serve.
Truly a fantastic dish!
https://coldlineliving.it/wp-content/uploads/2016/06/Abbattitore_Casalingo_abbattitore_domestico_abbattitore_temperatura_coldline_gnocchi.jpg
320
560
coldline_life
/wp-content/uploads/2015/10/logo-coldline-life1.png
coldline_life
2016-06-01 17:25:59
2017-03-17 12:27:17
GNOCCHI...IN 3 MINUTES